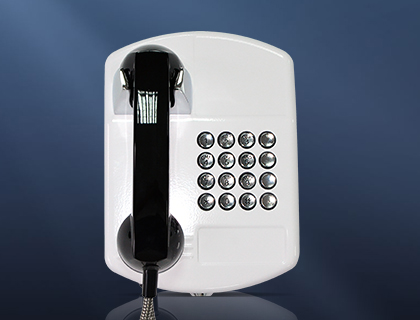 AFT-BG-10 bank automatic dial telephone
Product No.
AFT-BG-10
Housing material: cold-rolled steel
Finish: high temperature anti-static spray paint
Color:White, gray, red, blue, green, yellow
Dimensions: 250×180×65mm
Protection: IP54
Adapt to temperature: -20 - 70 ℃
Relative Humidity: ≤75%
Product details
product description
1. The phone casing is made of cold-rolled steel plate, stamped through a mold, and the surface is baked. It has strong corrosion resistance, dust resistance, noise resistance, and anti-riot characteristics.
2. The main board of the telephone is developed with imported ATMEL single-chip microcomputer, which is an environment-friendly chip component with high integration, safety and stability.
3. The 16-bit keys (keyboard) of the telephone are made of high-grade zinc alloy metal, the contact resistance is ≤30 ohms, and the service life is ≥200 times. Press pressure 160-200 grams.
4. The handset (handle) of the phone uses imported ABS engineering plastic, Teflon wire, high-strength wear-resistant metal hose, and a kind of anti-noise microphone. Sex is good.
5. Telephone handset hook (hook fork) is made of selected zinc alloy and controlled by intelligent magnetic induction switch, with a service life of 500,000 times or more.
6. Low power consumption, suitable for various telephone lines; Lightning and leakage prevention design.




Phone applications
Applicable to the ATMs of major banks, it is convenient for customers to contact the bank customer service center in time when they encounter problems during the withdrawal process.




Wiring
The phone supports wired or wireless wiring.
A. Wired: Connect the ordinary telephone line, and the telephone line is powered.
B. Wireless: The phone has a built-in mobile phone card (Mobile / Unicom supports 2G, 3G, 4G, and Telecom supports 4G and requires VOLTE HD voice call) It needs to be powered separately and connected to a 220v power supply.




Phone feature highlights
Automatic dial function
After going off-hook, the phone automatically dials the pre-stored phone number without manual dialing. Such as: 955 special line, 400 and other numbers.
l Ordinary telephone function
After going off-hook, you can manually dial any phone number.
l One-touch dial function
The phone's keys have 4 function keys (blank keys), which can pre-store a group of phone numbers respectively to achieve one-touch speed dialing. Such as: 110, 119, 120, etc.
l First three seconds function
After going off-hook, you can make an emergency call within the first three seconds. Such as: 110, 119, 120 and other numbers.
l Auto-hook function
After the call is over, the other party hangs up, and the phone can automatically detect the busy tone to hang up automatically. You can also hang up manually.
l Number storage function
The phone has a number storage function. Even if there is a power outage, the number is permanently saved. The number can be set and changed.
l Auto-connect function
When there is an incoming call, the phone will ring 3-4 times and the phone will be connected automatically without manual connection. It can also be switched on manually.
l Limited time call function
Limited time call for 30 minutes. After 30 minutes, the phone will hang up automatically. Call duration can be changed and set.





Phone installation method
Reserve a suitable space on the wall to be installed, and hang the wall. Use the M6 rubber plug and M4 stainless steel self-tapping screws to fix the back cover of the phone to the wall and lock it to install.




Packaging specifications
Specification: 1 set / carton;
Gross weight: 4.0 KG;
Net weight: 2.1 KG
Volume: 0.02664 cubic meters (m³);
Packaging: pearl cotton, carton;
Packing box size: length * width * height 400 * 370 * 180 mm